Welcome to the website of the Leicester Radio Society
We are an amateur radio club based in Leicester with over 100 years of history, please take a look around. Current and previous members are encouraged to create an account by clicking on the "Sign up" link on the right hand side of the page. If you are considering joining us (or are just interested in amateur radio), you are welcome to sign up and use the shoutbox where many club members are active.

We are also trying to build a comprehensive gallery of LRS contests and special event stations over the years so if you have any pictures, please contact our webmaster who will be pleased to receive them.

Below you will find upcoming events and announcements from the committee.



The committee are pleased to invite all Leicester Radio Society members to attend the Annual General Meeting of the society to be held at the club premises (Gilroes Cottage, Groby Road, Leicester LE3 9QJ) on Monday 28th January 2018.


Posted on 14th January 2019 as per Section (8)(a)(i) of the societies constitution.
On 16th July 2018, Chris G0WUS gave members his second talk on DMR, a video of which is available to watch below
Regulars (check main events page for any changes):
Morse classes with Sandra G0MCV most Mondays from 7-7.30 and 'drop-in' from 12-5 on the last Thursday of the month with Alex G8FCQ.
LRS are planning Foundation & Intermediate training

The Foundation course is planned to start on Wednesday 3rd April and run for 6 weeks Times are 7pm for 2hrs with exam on 15th May.
The Intermediate course is planned to start on Wednesday 20th February.The start time will be
7pm for 2Hrs. The course lasts 12 Weeks
With the exam on Wednesday 15th May
The books for the courses are available from the RSGB (Radio Society of Great Britain)
https://rsgbshop.org/acatalog/Online_Catalogue_Training_19.html
. anyone interested in joining the courses please contact the LRS training team
For information go to Training on this site
As part of the improvement works at LRS, we have started renovating both the toilet and kitchen areas, as these were identified as being most in need of work.
The wall was knocked-down between the two toilets, creating a new accessible unisex toilet, complete with washing facilities and a new concrete floor.
All that is needed now is some sort of floor covering and to clean/decorate the walls.
In the kitchen, we have laid a new concrete floor and built new cabinets.
There is still lots to do in the kitchen and we will be arranging another working party soon, if you wish to help, please contact the committee
To view galleries of all recent working parties, please click here
On 26th March, Chris G0WUS gave members an introduction to DMR, a video of which is available to watch below

Thanks Chris for a very informative talk and we look forward to the second installment where a more in-depth discussion of specific aspects of DMR will be covered.

We have been trawling our archives and scanning lots of photographs of old LRS events, including many field days, here are a few samples. Please look in the gallery section for more:
National Field Day 1987
National Field Day 2002
Construction competition in early 2000s
To all members and prospective members:

You can now pay your subscription via PayPal. This service is available for all full and concessionary members.
Please click here if you wish to use this service.
PayPal service charges are added to the price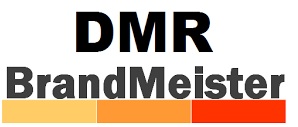 It has become apparent that the DMR IDs belonging to some LRS members have been used by people to abuse other DMR users, mainly on the 4400 UK Wide talkgroup. This was not the registered users of the IDs and should be considered identity theft!
The Brandmeister system that most of the Midlands repeaters are connected to has a security method available called AirSecurity/TOTP which can be used to stop this sort of abuse being transmitted across the network. It doesn't currently stop the local repeater transmitting but this is a feature that is being considered.
It is easy to setup, you simply need to register on the https://brandmeister.network and enable the AirSecurity/TOTP setting within the SelfCare menu. You will need a smartphone with a TOTP app (we recommend Google Authenticator which is available for most major smartphone types). Once enabled, you will need to make a private call to 9 + the 6 digit TOTP password (you can also use the virtual PTT button on the dashboard) this will give you access to the system for between 15 and 60 minutes before you must re-authenticate.
Full instructions are available at https://wiki.brandmeister.network/index.php/AirSecurity and we would recommend all LRS members enable this as although it is a slight inconvenience, it will ensure that your DMR ID is safe and not abused by jammers/pirates.

Here is a picture from the front cover of the December 1973 edition of RADCOM, showing Alex G8FCQ operating the talk-in station (GB3ARE) at the second Midland Amateur Radio and Electronics Exhibition. This was the first year that the "show" was to be housed at Granby Halls which would become it's home for many years (later to be taken over by LARS - Leicester Amateur Radio Show).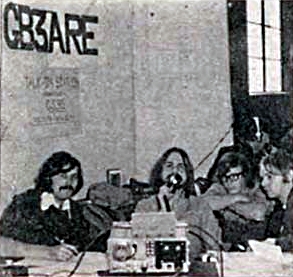 From left-to-right. Dave G4CLC, Alex G8FCQ, Mike G4SJX and Gary G4BJD
Thanks to Tim G4ARI for the photo