Welcome to the website of the Leicester Radio Society
We are an amateur radio club based in Leicester with over 100 years of history, please take a look around. Current and previous members are encouraged to create an account by clicking on the "Sign up" link on the right hand side of the page. If you are considering joining us (or are just interested in amateur radio), you are welcome to sign up and use the shoutbox where many club members are active.

We are also trying to build a comprehensive gallery of LRS contests and special event stations over the years so if you have any pictures, please contact our webmaster who will be pleased to receive them.

Below you will find upcoming events and announcements from the committee.



For selected days throughout the month of July 2019 (mainly Mondays/Thursdays and weekends) we will be activating our special event callsign "GB5EHL".
This callsign is to commemorate the 50th anniversary of the first manned moon landing with the immortal words of Neil Armstrong "The Eagle Has Landed"


We plan to be active on as many bands as possible (including VHF/UHF), please keep an eye on the cluster and this websites shoutbox for activity information.


The next activation will be throughout the weekend 20/21 July and visitors are welcome.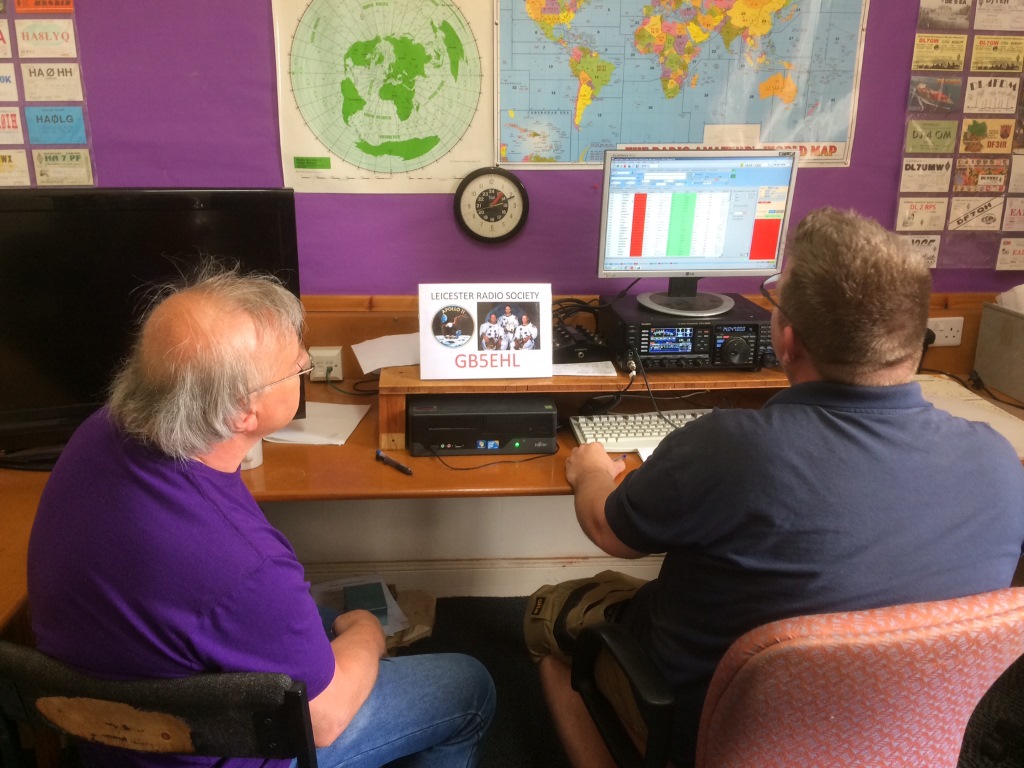 The committee and members of Leicester Radio Society were very sad to hear of the sudden passing of Andy on Sunday 7th July 2019. Andy and his ever-faithful hearing dog 'Watson' will be sadly missed by everybody at LRS.
Andy had been a member of LRS for over 30 years and served on the committee multiple times.
The funeral service will be held at Great Glen Crematorium, London Road, Great Glen, LE8 9DJ on Friday 19th July at 4.30pm. All are welcome. Any donations in lieu of flowers, to 'Hearing Dogs for Deaf People', www.hearingdogs.org.uk/donate or at the service.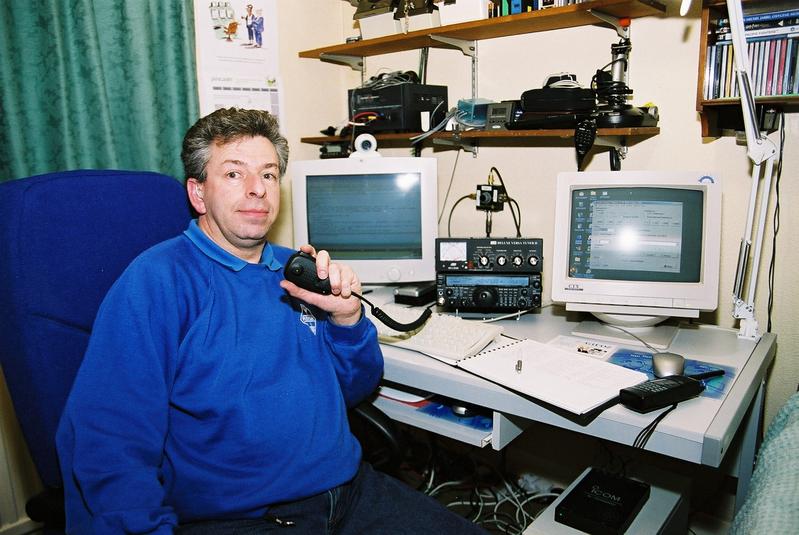 During our month of operating the GB5EHL special event station, we were asked if we could host a clue for the BBC Radio Leicester Sunday morning show "Clueless".
The clue to find us was fairly obscure but Sara and Dale found us quite quickly and had a nice chat about the club and the GB5EHL special event.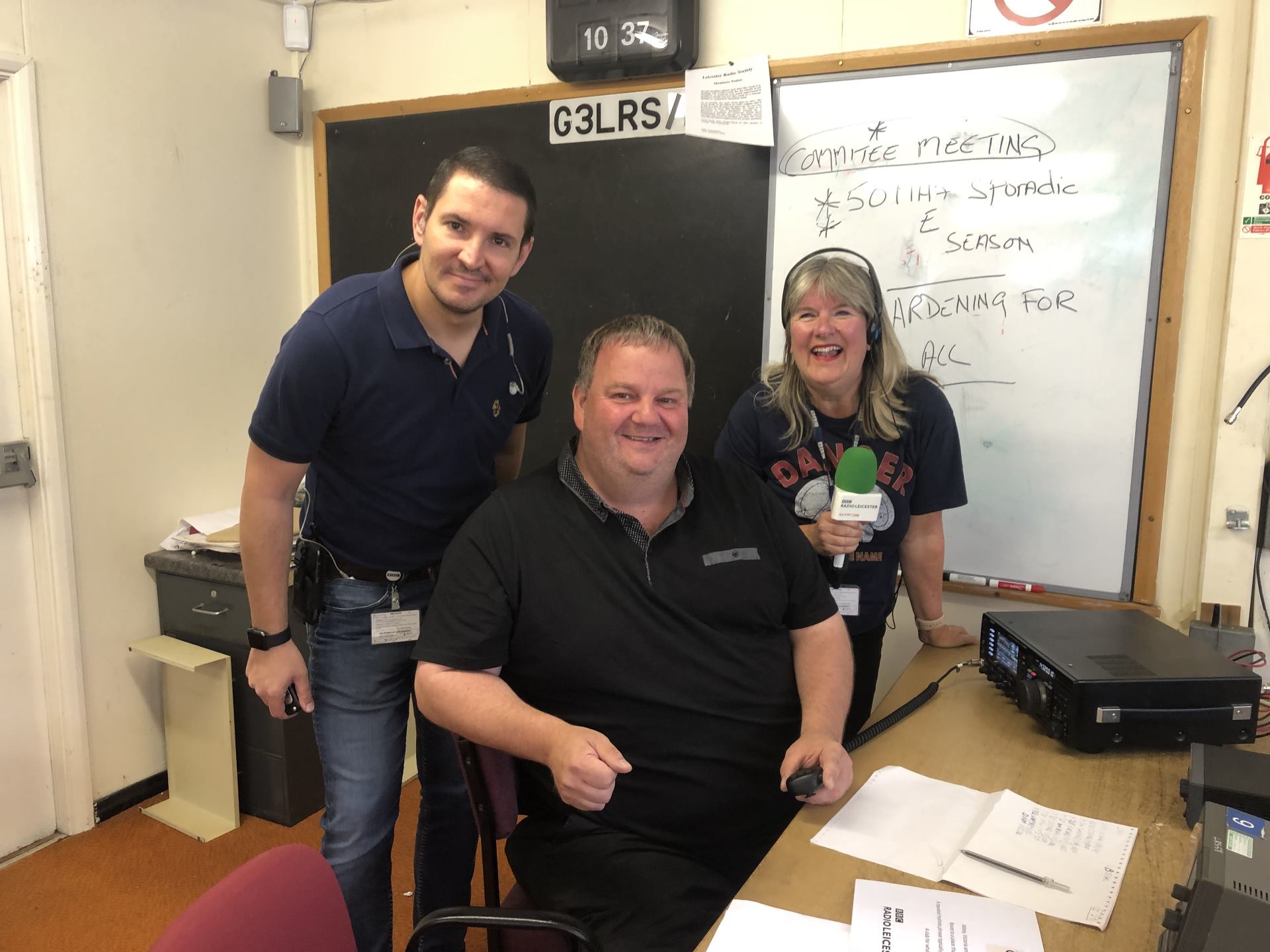 Many thanks to Dave G8PGO for organising a fantastic construction evening.
The project was an Arduino based CW keyer and was an interesting build for beginners and experts alike.
To view all pictures, click here
Regulars (check main events page for any changes):
Morse classes with Sandra G0MCV most Mondays from 7-7.30 and 'drop-in' from 12-5 on the last Thursday of the month with Alex G8FCQ.
As part of the improvement works at LRS, we have nearly finished the kitchen and it is looking great!
There is still lots more work to in other parts of the building do but members should be proud of what we have achieved so far!
To view galleries of all recent working parties, please click here
On 16th July 2018, Chris G0WUS gave members his second talk on DMR, a video of which is available to watch below
On 26th March, Chris G0WUS gave members an introduction to DMR, a video of which is available to watch below

Thanks Chris for a very informative talk and we look forward to the second installment where a more in-depth discussion of specific aspects of DMR will be covered.

TX Factor is a series of high definition TV shows covering all aspects of the hobby of amateur radio, the latest episode is below.

TX Factor episode 23 is now live.
We explore the process of music audio mastering at Mike Marsh G1IAR's studio in south Devon. Mike shows us how the latest TX Factor theme tune was mixed and mastered, and demonstrates the process of cutting the audio onto vinyl disc - such nostalgia!
Nick Bennett 2E0FGQ visits the National Radio Centre at Bletchley Park where Noel Matthews G8GTZ and Graham Shirville G3VZV demonstrate how set up and operate over the new geostationary satellite, Oscar 100. Plus, Bob McCreadie G0FGX visits the folks at Icom UK with a full review of Icom's long-awaited VHF / UHF all-mode transceiver the IC-9700.
Previous episodes are available to view here