Welcome to the website of the Leicester Radio Society
We are an amateur radio club based in Leicester with over 100 years of history, please take a look around. Current and previous members are encouraged to create an account by clicking on the "Sign up" link on the right hand side of the page. If you are considering joining us (or are just interested in amateur radio), you are welcome to sign up and use the shoutbox where many club members are active.

We are also trying to build a comprehensive gallery of LRS contests and special event stations over the years so if you have any pictures, please contact our webmaster who will be pleased to receive them.

Below you will find upcoming events and announcements from the committee.



Monday 27th November
LRS will show a video of a 2015 RSGB convention lecture.
Clean Up Your Shack
A very interesting lecture on the way interference gets into & out of your station, how to reduce and cure it.
Beginning with tidying up the cables in your station as this is the first step everybody should take!
Start time 7:30pm
All events start at around 7.30pm unless otherwise stated.
Date
Description

2nd

Intermediate exam 7pm - 9pm

6th

Morse class 7-7:30 followed by

Open Meeting

13th

Morse class 7-7:30 followed by 80m Autumn data contest

20th

Morse class 7-7:30 followed by Committee Meeting

23rd

Drop in for a cuppa and a chat (12-5)




27th

Morse class 7-7:30 followed by Video: Clean Up Your Shack
All events start at around 7.30pm unless otherwise stated.
| | |
| --- | --- |
| Date | Description |
| 4th | Morse class 7-7:30 followed by night on the air |
| 11th | Morse class 7-7:30 followed by Committee Meeting |
| 18th | Christmas Party! |
| TBA | YOTA (Youngsters on the Air) event |
To all members and prospective members:

You can now pay your subscription via PayPal. This service is available for all full and concessionary members.
Please click here if you wish to use this service.
PayPal service charges are added to the price

Here is a picture from the front cover of the December 1973 edition of RADCOM, showing Alex G8FCQ operating the talk-in station (GB3ARE) at the second Midland Amateur Radio and Electronics Exhibition. This was the first year that the "show" was to be housed at Granby Halls which would become it's home for many years (later to be taken over by LARS - Leicester Amateur Radio Show).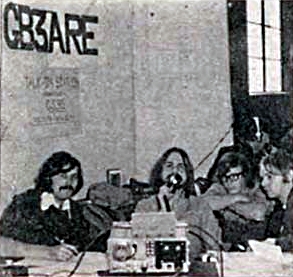 From left-to-right. Dave G4CLC, Alex G8FCQ, Mike G4SJX and Gary G4BJD
Thanks to Tim G4ARI for the photo
CALLING ALL MEMBERS OF LEICESTER RADIO SOCIETY

WOULDN'T IT BE GOOD TO HAVE OUR OWN CONTEST TEAM?
THE MORE THAT ENTER, THE BETTER THE SCORES
WE DON'T MIND IF YOU JUST GET A COUPLE OF CONTACTS OR IF YOU GO FOR THE TOP SCORE
WE WOULD LOVE TO GET SOME OF THE NEW FOUNDATION LICENCE HOLDERS ACTIVE ON CONTESTS
TX Factor is a series of high definition TV shows covering all aspects of the hobby of amateur radio, the latest episode is below.

TX Factor episode 19 is now live.

In part one of our reports from Hamfest 2017 we have a sneak preview of the Icom IC-7610 and IC-R8600 rigs. We meet the new owners of PW Magazine, and Pete tries his hand at the RSGB on-line exam. There's also an update on the Society's EMC Committee's findings. Bob finds his way back to New Broadcasting House in London where the Director General discovers he has amateurs working for the Corporation. Nevertheless, Lord Hall broadcasts from the shack of the newly resurrected club station G8BBC. And, Laurie Margolis G3UML recounts an historic QSO he had from the early 1980s.
Plus, you can win a mobile linear-amp for your handie in our free-to-enter draw. http://www.txfactor.co.uk
Previous episodes are available to view here